The Big Freeze
When it's not the cold weather that's stopping you from moving
25th Apr 2022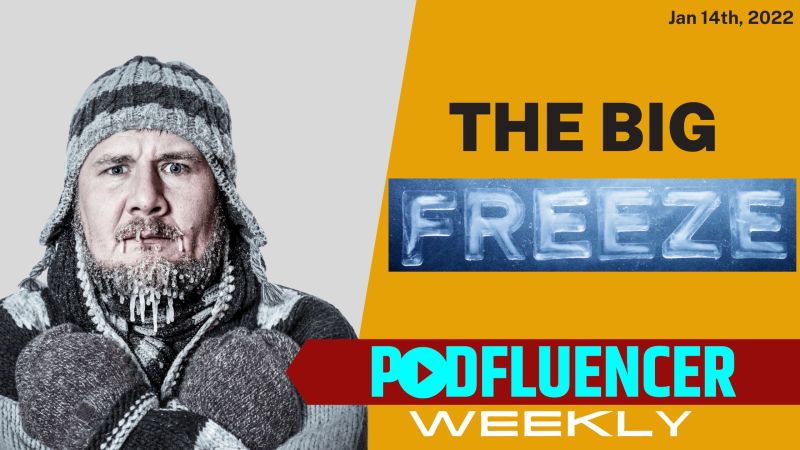 This is not a weather forecast, nor am I in any way making weather or climate predictions. I will leave that to the experts. What I can reasonably predict is that there are many people who find themselves in the position of knowing what to do but not doing what they know.
If you're such a person, don't worry, you are by no means alone. Membership to the 'I know I should' club is far from exclusive. This big freeze is the one that arises when you're faced with doing the actions that would actually transform your business, like asking people to buy from you.
I'm a gold card member of the 'I know I should' club. Like many others, I've had a history of not taking the actions that would get me across the line but doing enough to look busy and point to all my hard work as proof that I deserved more success and that I had just been unlucky and couldn't have done more.
I'm not sure who's benefit this little bit of mental gymnastics was for since probably few others cared and so at best it was an attempt at convincing myself. Although I already knew, I still had to really learn that working hard is not the same as being productive.
As the wonderful coach and speaker Carrie Wilkerson said to me, these are your noble actions. They keep you busy, they seem very good but they don't actually move the needle when it comes to business success. Maybe you can relate?
There's a secret word missing from the 'I know I should' club and it's a different size for everyone who's a member, although it's the same 3 letters, no one likes talking about theirs and it's usually the cause of the big freeze that keeps you frozen where you are. I know I should BUT…
However big or small your but is, it's the excuse you will keep giving yourself until you decide to stare it down and deal with it head-on. This bit gets a little scary but I know you can handle it. If you were to identify one thing that would make a big difference to your business, your progress or income that you know you really should do but don't, what would it be for you?
Try finishing some of these sentences and feel free to adapt them to your own circumstances:
I know I should put myself out there more on social media but…
I know I should have an active sales page on my website but…
I know I should prospect for clients but…
I know I should do more videos and podcasts but…
I know I should ask for the sale but…
I know I should do more marketing but…
I know I should charge more but…
I know I should be earning ($€£) 10k a month but…
Your answers are your obstacles and the obstacle is the way. If you are willing to focus on solutions thinking here and lean into some uncomfortable truths, then I think we can thaw out and get past the freezing points. We're going to generate some intrinsic motivation to get our big buts out of the way.
What's your big but? Got more than one? Take them one at a time and let's start with the one that would make the biggest difference to you. Your but is your objection to doing the thing you know would move you forward… Common objections are time, money, commitments, fears, doubts. Unless your objection is that it's humanly impossible, guess what? It can be overcome.
I want you to start off by imagining what would be different if you did the thing or things you've been resistant to? What would that look like? How would that feel? If it helps, close your eyes and step into it. Visualise it. Feel it.
Now, it's time to transform your but into a how. How are you going to make progress with the thing or things that would make the biggest difference to you? Can you come up with one simple action that would start the process of progress? I'd love you to send me a message and tell me what that action will be?
If you're struggling with this and want some help or you know what to do but you also know that getting past your big freeze is going to require having your feet held to the fire, I'd like to help. I have availability for some private coaching clients in my new year schedule. Send me a direct message on LinkedIn and we'll set up a quick strategy session to get you warmed up for 22.
I hope you will also enjoy the latest episodes of the Speaking Influence podcast. If you haven't checked out the show yet, here's a short introduction to what it's all about:
Speaking Influence is sponsored by BrandFace. If you want to have a powerful personal brand that tell the story of your business to the right audience in the right way, visit LearnAboutBrandFace.com to find out more.
On the 27th of January, I will be (re)launching The Podcast Client Attraction System. This is going to be a LinkedIn live event and is free to attend. You can register here. There will not be a replay but if you are not able to attend, let me know and I will invite you to the next one.
Have an amazing day and go and make great things happen.